Global Sourcing Service
Best Quality Global Sourcing Service Drives Companies Growth
As low cost country resources are being valued at 1/3rd to 1/5th of their Western counterparts, it comes as no surprise that global sourcing service is emerging as an important business strategy. As explained in Thomas Friedman's acclaimed book, "The World is Flat", the world has shrunk due to the impact of technological competition. The pressure to do more with less has forced companies to become more agile. They are increasingly alert to changes in the macro-economic positions of economies across the world as well. Unfortunately, most companies lack process maturity to manage globally distributed teams and enjoy cost savings. Instead of depending on local resources, it is more justifiable to look for a global source of production factors. It helps to work with global sourcing services providers, who can prove to be your trusted partner committed to service excellence.
What Companies Need
Continuous intelligence about trends in key supply markets
Globally integrated organizational structures so best practices are shared and purchasing power leveraged vis-à-vis suppliers
Systems that allow global visibility into the company spend
How Asia Sourcing Services Help
Lower Total Costs – With entry barriers and vendor risks reduced, your company can fight the challenges of managing a geographically-distributed workforce.
Transparency – Global sourcing service providers will help you with projects of any size and scope with complete transparency on budget, vendors and logistics.
Product Localization – add experienced buying resources to work on your localization programme so your products are manufactured at the best costs locally.
Global sourcing companies are ready to help you address the challenges you might face with your global sourcing programme. You can benefit from faster savings realisation while you gain access to the unique products and services you require from low cost companies.
India Procurement – Key Driver for Competitiveness
Undeniably, India is a prominent global source for trained human resource and raw materials. There is no disputing the fact that sourcing globally has risen steadily over the years. In fact, most companies have reported up to 35% cost savings upon choosing LCC suppliers. While looking for cost reduction opportunities and identifying newer sources of supply, companies are increasingly choosing India as a potential source country.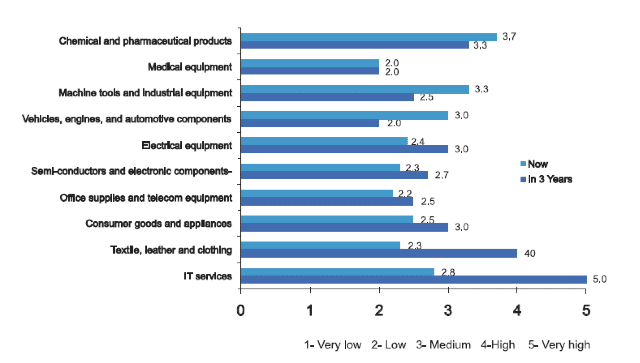 Graph displays categories being sourced in India now and in three years
Graph displays drivers to India sourcing
Companies that are sourcing from India are focusing on the categories where India has historically been strong such as IT off-shoring services but increasingly also in a wide set of industrial categories where India has recently invested into developing some strong capabilities. These include automotive components, industrial equipment, electrical and electronic equipment, plastics and rubber components.
Choose Global Sourcing Service Providers with Care
Does the global sourcing service provider have a global footprint which allows to cover the key sourcing markets?
Can they manage the entire sourcing process including market intelligence, feasibility analysis, supplier qualification and selection, and procurement operations?
Will the company understand your requirements and effectively integrate their services with your business unit?
These are the main questions which you will need to find answers to before you decide on a global sourcing service provider. An accessible global source is the primary requisite to this issue. Compete effectively in the global market and expand your business with the support of a qualified sourcing services provider. Procurement savings can directly contribute to your business's bottom line, take advantage today.
Need another of our other offices, please check our page
57 Rue de Fontenay
92140 Clamart, France