Contact us for your PPE requirements
An Introduction to COVID- 19
COVID- 19, now a pandemic, is an infectious disease caused by a new type of coronavirus called SARS-CoV-2. Most people infected with the virus experience mild to moderate respiratory problems and recover without any type of special treatment. However, senior citizens of the society and those with other illnesses, such as diabetes, cardiovascular disease, cancer and chronic respiratory diseases are likely to develop serious illness.
The COVID-19 virus primarily spreads through discharge from the nose and droplets of saliva or when an infected person coughs or sneezes.
The best way to prevent and slow down transmission is to be well informed about the COVID-19 virus, the disease it causes and how it spreads. People have to protect themselves and others by covering their noses and mouths and also by washing their hands with soap and water or rubbing them with an alcohol-based sanitizer. Practicing respiratory etiquette (for example, coughing into a flexed elbow) and social distancing is important, and touching the face is strictly prohibited by experts.
Several Countries, China in Particular, are Offering COVID- 19 Personal Protective Equipment (PPE)
Dragon Sourcing can help you meet the demand for personal protective equipment, offering products that meet global quality standards and are FDA and CE certified.
We have a comprehensive qualified database of suppliers and a highly efficient local team of procurement experts. With our help, customers can select qualified suppliers and source a huge variety of Covid19 related PPE supplies.
Table of Content
1. Masks
| | |
| --- | --- |
| | |
| FFP3 Mask | KN95 Mask |
Description
Import FFP3, FFP2, KN95, Standard Mask, Surgical Mask and Masks with shield from China with a pair of pre-attached elasticated straps. Fitted around the base of the head and on the top of the head, it gives maximum protection. The FFP2, FFP3 and N95 masks from China are shaped like a duckbill. Some can be horizontally folded.
Types of Masks
FFP2, FFP3, KN95, Standard Mask, Surgical Mask and Mask with shield; with and without valve
Certificates
CE FFP2 and CE FFP3 certificate; FDA registration
Size
Adult/Nose Bridge Size
Material
Non-woven fabric
Benefits

High particle filtration allows proper breathing
Efficient respiratory protection against smog, air pollution and viruses
Comfortable in hot and humid conditions. Can be worn for long durations
Adjustable clip
Ideal for labs, hospitals and more
2. Isolation gowns & Disposable coveralls
| | |
| --- | --- |
| | |
| Isolation Gown | Coverall |
Description
These sterile overalls are protective clothing that restricts the entry of light liquid splash or bacteria/virus during an emergency. Source COVID 19 protective coveralls, disposable coveralls and isolation gowns from China for long-lasting applications. Features specially coated boots.
Types of Isolation gowns & Disposable coveralls (this includes the coverall sets with shoes, glass, etc)
Coverall, Protective Clothing with and without shoes, Protective 4 Set (Protective clothing, glass, shoe cover), Isolation Gown, Disposable Coverall, Disposable Protective Suit Medical Use
Certificates
CE and FDA (Class 1) registration
Sizes
Available in various sizes and styles
Material
Isolation gown – Spunbound+Meltblown; Features elastic waist; Non-woven+PE
Coverall – Microporous
Tyvec Boots
Anti-chemical clothing
Benefits

Source coronavirus protective coveralls from China for their comfortable design that allows better movement and fewer blowouts
Solid and tough non-woven fabric makes the suit durable.
Protects against light liquid splash
Reduced chances of cross-contamination in pandemic response activities
Abrasion-resistant
The disposable protective suit medical use from China is an item of occupational protective clothing for personnel in medical institutions.
Boots are skid resistant
Easy to use
3. Disposable shoe cover in non-woven fabric
Single Use Cover Shoes
| | |
| --- | --- |
| Certificates | No Certificate |
| Description | Easily disposable, warm and soft, these COVID 19 shoe covers from China are worn above shoes to protect them from virus exposure. |
| Sizes | Available in different sizes |
| Material | Plastic |
| Benefits | The COVID 19 shoe cover from China can be used in hospitals, clinics, labs and at home. |
4. Nitrile Gloves, Latex Surgical Gloves with powder- sterile
Disposable Examination Gloves
Description
Source latex examination gloves from China to make diagnosing easy for healthcare workers. They keep hands safe from viruses, bacteria and dust. Elastic gloves are easy to wear and open.
Types of gloves

Sterile Latex Examination Gloves and Latex Surgical Gloves with powder

 

 




Nitrile Surgical Gloves Powder Free  – Not Sterile

Certificates
CE Certified
Sizes
Available in various sizes
Material
Latex, Nitrile and Vinyl
Benefits

Nitrile Surgical Gloves and Latex Examination Gloves from China are easy to use.
Protects skin from dust and microorganisms
5. Eye protection glasses and face shield
| | |
| --- | --- |
| | |
| Anti-Fog Goggle | Anti-Fog Face Shield |
Description
With a high-end COVID 19 protection safety glass and face shields from China, users can protect their eyes and face. Built to meet industry standards, they feature an ergonomic design. Face shields are manufactured to be convenient, comfortable and functional and keep professionals and DIYers safe. They are designed to protect the face and eyes against certain impacts and viruses.
Types of eye protection and face shields
Goggle, Face Shield and Safety Glass
Certificates
CE Certified; For safety glasses – Food Grade ABS material
Sizes
Goggle – Size:18.2*7.5*5.9cm

Safety glass – Available in several configurations

Material
Goggle – PVC frame with PC anti-fog lens; Safety Shield – Polycarbonate window
Benefits

Used for virus protection and hygiene
Protects from airborne particles
Flexible frame for better fitting
Wider eye protection, optical class:1
Protection against high-speed particles
Prevents eye-touching
Reliable UV 400 protection
High mechanical strength
Comfortable design of the COVID 19 protection goggle from China keeps away pinches or presses
Polycarbonate windows enhance durability and strength.
Pinlock system permits easy adjustments and a secure, tailored fit.
Window attachment system is replaceable
Source COVID 19 protection face shields from China to enjoy unrestricted visibility
Source face COVID 19 protection from China with ergonomic design for an excellent field of view
6. Infrared thermometer
| | |
| --- | --- |
| | |
| F1 Infrared Forehead Thermometer | MS-8806E Infrared Forehead Thermometer |
Description
The F1 Medical Forehead Thermometer from China measures the body temperature from the forehead and shows it on an LCD screen. The Infrared thermometer from China exhibits the temperature in a second without making any skin contact.

Measuring distance: 1 to3cm
Range of measurement: Human body temperature 32℃ -42.9℃(89.6℉ ℃-109.2℉ );
Surface temperature 0℃ ~100℃(32℉ -212.0℉ )
Surface temperature accuracy – 1℃
Display resolution: 0.1℃/0.1℉
Operating environment: 16℃~35℃ (60.8℉ -95℉ )RH≤85%; Working temperature: -25℃ -55℃(-13℉ -131℉ )RH≤90% Working temperature: -25℃ -55℃(-13℉ -131℉ )RH≤90%
Power Supply: DC1.5VX2 (2AAA 7#)
Display Unit: ℃ / ℉

Types of thermometers
F1 Medical Forehead Thermometer, MS-8806E Infrared Forehead Thermometer
Certificates
CE,RoHS,FCC,LVD Certified
Benefits

Source forehead thermometers from China for fast temperature reading and result
LCD backlit screen
Can store measurement data
7. Hand wash (Hand sanitizers, anti-bacterial hand (liquid/soap) wash)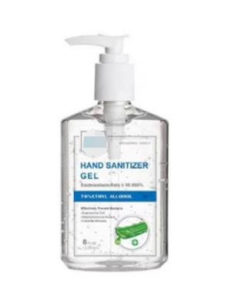 Hand Sanitizer Gel
Description
Fighting against coronavirus becomes easy when you are equipped with hand sanitizers having adequate amounts of ethyl alcohol and antibacterial hand wash or soap from China to kill the germs. We are connected to a wide range of hand sanitizer and hand wash suppliers from China to ensure a healthy supply of the best quality products.
Certificates
No need
Sizes
Available in various sized bottles from 4 fl oz/118 ml to 16 fl oz/476 ml
Material
Sanitizer – Ethyl Alcohol
Benefits

Protects hands from coronavirus and other germs
Kills Covid- 19 virus and bacteria
8. Test Kits
Test Kits
Description
Detect and quantify antigens and proteins from samples of plasma, serum, and fingertip blood of suspected cases with the help of a COVID-19 test kit. It can detect the presence of COVID-19and does not detect any other strain of coronavirus.
Types of test kits
IVD Test COVID – 19 (10 mins) and BGI 2019-nCoV RT-qPCR Kit (3 hours)
Certificates
CE/EUA FDA Certified
Benefits

Detects virus very quickly
Exclusive to COVID-19
High priming efficacy
Specific detection profile
Precise control for confirming extraction and assaying validity
9. Ventilator
Ventilator
| | |
| --- | --- |
| Description | When the lungs have been attacked and fail to function, and the body needs to fight the infection, ventilators are needed. Import ventilators from China to save the lives of thousands of people suffering from COVID-19 |
| Certificates | CE Certified |
| Benefits | Helps treats lung infection |
10. Cotton sterile swab with plastic shaft with VTM
Cotton sterile swab with plastic shaft with VTM
Description
Sterile cotton swabs on plastic shafts help to collect specimen in clinical setting under aseptic technique and identify microorganisms. The VTM allows proper transportation of the specimen to the testing lab.
Certificates
CE Certified
Sizes
3 inches
Material
Cotton
Benefits

Easy to collect specimen from any source like throat, nose, etc
Disposable
The plastic shaft allows semi- flexibility while cotton swab permits quick absorption of material.
Useful for preparing smears and microscopic observation using wet mount technique
Contact us for your PPE requirements